Sugisawa no Sawasugi [ Cedar forest in spring water zone ]
A Tateyama cedar forest lying in the abundant spring zone at the end of the Kurobe River's alluvial fan, it used to spread 130ha along the area's coast. However, it was cut down for agricultural purposes, leaving only 2.67ha to be preserved and designated as a cultural asset. This peculiar forest is home to a plethora of plants, including naturally growing wetland and mountainous plants, as well as warm temperate plants considered to be the northern limit of wild growth. The well-maintained wooden path in Sawasugi Forest allows visitors to leisurely observe the Tateyama cedar alongside the wide variety of wild plants.

Fukujou Koushin is a phenomenon in which the seedlings sprouting from the Cedar's roots collapse due to the weight of the snow, and the roots emerge from the collapsed parts, growing into new plants. This phenomenon is usually seen in high mountains and rarely occurs on flat ground, making it another highlight of Sugisawa no Sawasugi.

The gravel layer of the alluvial fan and the high groundwater obstruct the flow of nutrients in the forest, preventing the roots from going deep into the ground. The cedar trees have adapted to these unfavorable conditions by extending their roots horizontally and spreading them on the flat surface, intricately entwining with the roots of the other cedar trees nearby.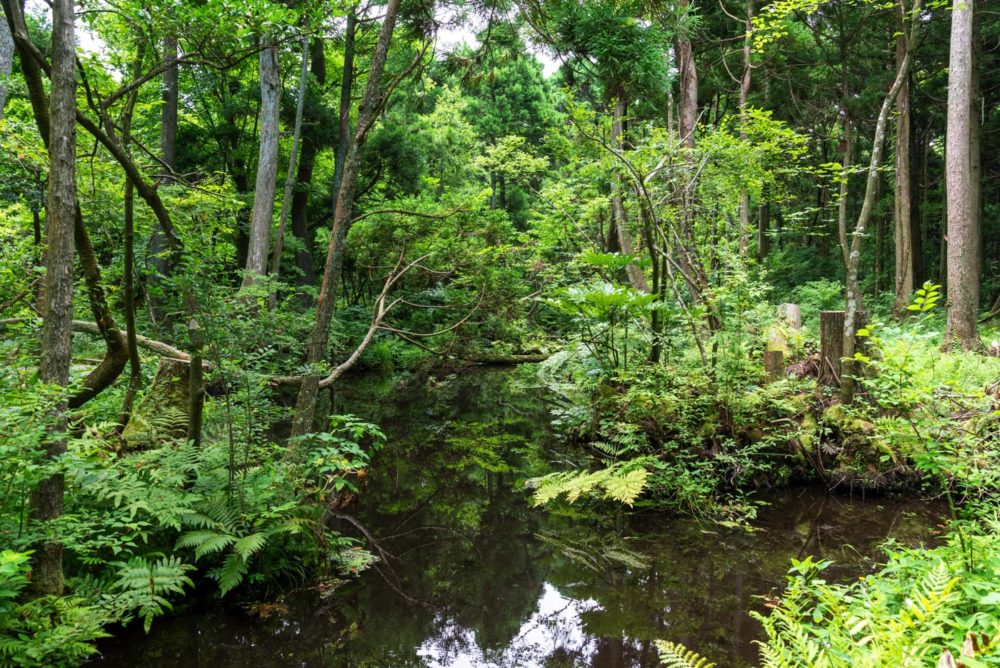 Name
Sugisawa no Sawasugi [ Cedar forest in spring water zone ]
Designation level
Country
Designation classification

Natural Monument

Type
Designation/registration day
August 4, 1973
Municipality

Nyuzen Town

Location
Yoshiwara
Ownership/management
Nyuzen Town
Member
Structure
Era
Links