The Takaoka Mikurumayama Festival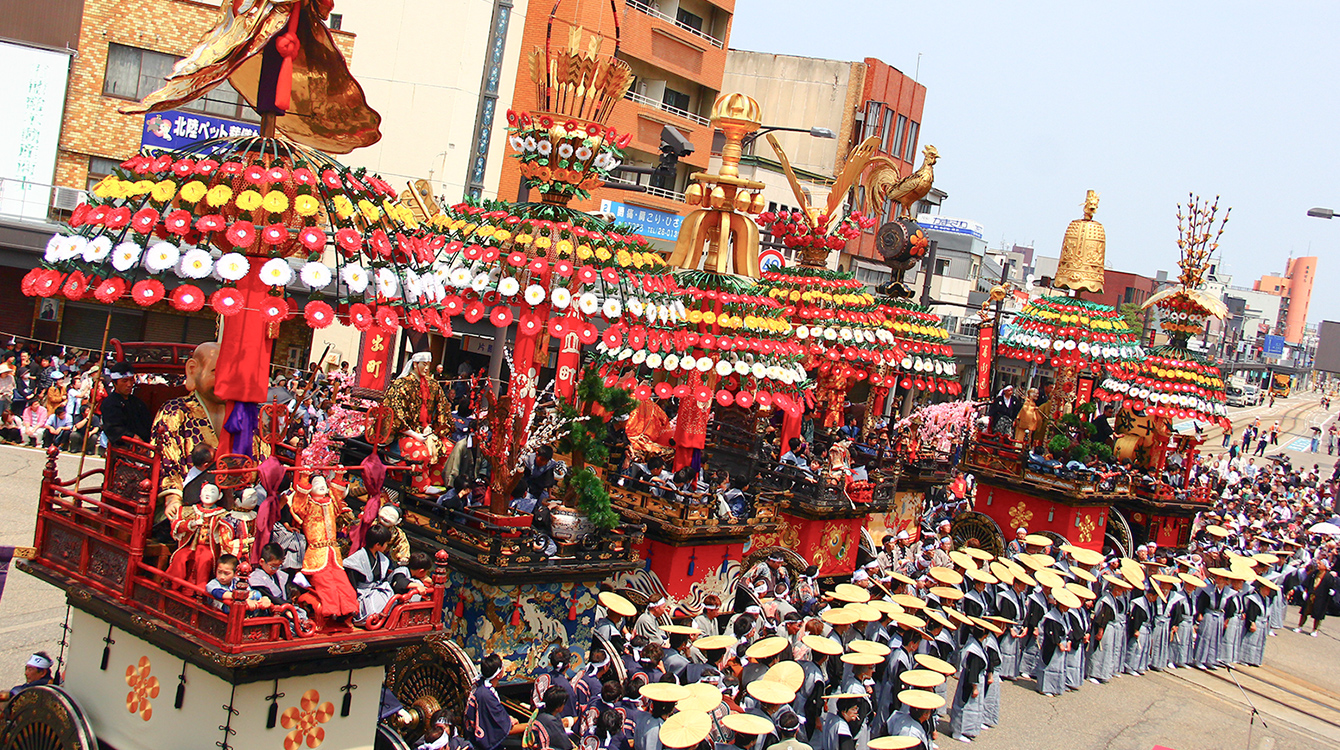 This festival is held on Yamachosuji Street and in Katahara-machi in Takaoka every May 1.
The Mikurumayama floats trace their origins to an imperial carriage bestowed by Lord Maeda Toshinaga to the locals upon the construction of Takaoka Castle in 1609. Through the collective financial effort and teamwork of the townspeople, the carriage was renovated into what became the first Mikurumayama float. According to legend, the gods ordinarily reside in the heavens, and descend to Earth for festivals. The central pillar on a Mikurumayama float serves as a landmark, guiding the gods' descent. The "flower umbrella" is meant as a decorative altar, and the doll provides a place for the gods to reside. The hokodome at the top features a different shape depending on which part of town owns the float. During the Sekino Shrine spring festival, the parade of Mikurumayama floats slowly travels around the area, accompanied by elegant musical performance, representing a parade of the descending gods.
Highlights of the Mikurumayama Floats
The floats feature a pillar in the center, with a round woven bamboo decoration topped with a "flower umbrella" decorated with chrysanthemums made of washi paper, and a large doll sitting underneath. The seven Mikurumayama floats exhibit unique features specific to each part of town. With their massive, glossy lacquered wheels and delicately built metal fittings, handrails, and decorative mounts, every aspect of the Mikurumayama floats bears spectacular testament to Takaoka's traditional artisanry, including lacquerware, metalwork, woodwork, and dyeing and weaving techniques.